Best Maine Coon Cat Breeders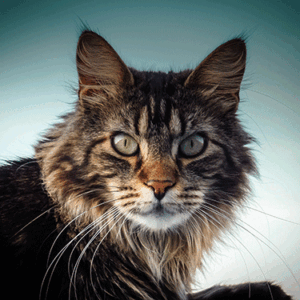 We believe that when choosing the perfect Maine Coon, the best breeder is always the local one. Buying from local Maine Coon breeders means you can meet them in person to see how they're raising their kittens, plus avoid potentially traumatizing shipping of the kitten. But finding a quality Maine Coon cat near you can be a difficult task. So we've compiled all of the information you need to know about Maine Coon breeders with kittens for sale, including website URL, contact information, Facebook page, memberships to associations, and more, broken down by location. This will help you choose the right Maine Coon when the time is right.
The Top Maine Coon Breeders in the US
Discover the best registered Maine Coon breeders in the United States.
1. Sassy Koonz, Florida
Sassy Koonz stands out as a premier breeder of 100% European Maine Coon kittens in the US. Their unique emphasis on pedigree, health history, and genetics ensures they produce some of the finest Maine Coons in the country.
Their cats are well-socialized and come with friendly temperaments and microchipping. The cattery takes pride in breeding cats with rich, classic colors, closely adhering to breed standards, making them a top choice for potential Maine Coon adopters.
From the breeder:
My goal and passion are to provide you with education, inspiration, and healthy, well-socialized, beautiful Maine Coon babies that you'll love forever.
Quick Info:
Location: Jacksonville Beach, Florida
Associations: TICA, CFA
Website: SassyKoonz.com
Phone Number: 904-203-8186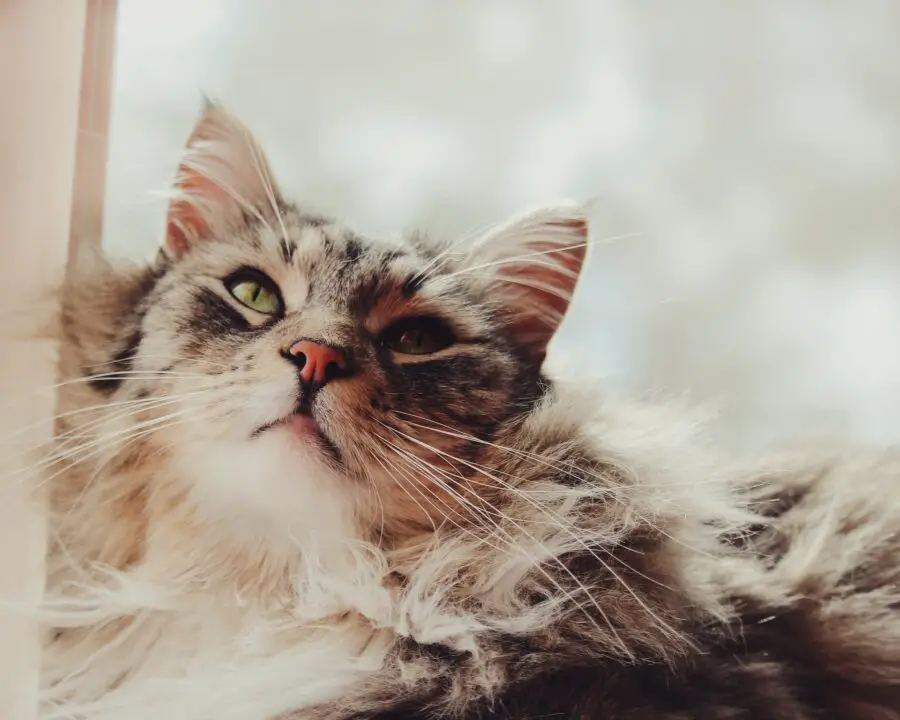 2. Loving Lynx, Tennessee
Loving Lynx, hailing from Knoxville, prides itself on breeding distinctive Maine Coon cats that exude the wild lynx appearance while embodying their signature gentle "Loving Lynx" temperament. With a diligent approach to health, they ensure all breeding cats are DNA tested and negative for health conditions, resulting in physically robust and mentally sound feline companions.
Raised with dogs and children, these kittens are well-socialized and adaptable to any environment.
From the breeder:
We are registered with both the CFA (Cat Fanciers Association, the world's largest registry for pedigreed cats) and TICA (The International Cat Association, the world's second-largest registry). Our vision is to select the up most exotic lynx, like Maine Coons, with optimal feline health and competently sound temperament. All our cats are DNA tested for HCM, PKD, and PRA negative (N/N Not carriers).
Quick Info:
Location: Knoxville, Tennessee
Associations: TICA, CFA
Website: LovingLynx.com
3. Lake View Coons, South Carolina
Lake View Coons, nestled in the scenic foothills of the Blue Ridge Mountains and overlooking Lake Robinson, is run by a passionate husband and wife duo. More than a business, their cattery is a labor of love.
Their focus is on quality, with only a few litters produced each year. They also make sure each kitten finds the perfect FURever home.
When you adopt from Lake View Coons, you're not just getting a cat, but a cherished member of their carefully nurtured lineage.
From the breeder:
Lake View Coons is a TICA & CFA registered Maine Coon & Polydactyl Maine Coon Cattery located in Greenville County South Carolina. With an emphasis on producing healthy, well-tempered cats, we are active in the exhibition hall, and our breeding cats have earned several championship titles, and regional and international awards of excellence as a result. All of our breeding cats have undergone extensive genetic, cardiac, orthopedic, and PCR health screening prior to entering our breeding program.
Quick Info:
Location: Taylors, South Carolina
Associations: TICA, CFA
Website: LakeViewCoons.com
Phone Number: 864-735-8143
4. Colorado Maine Coons, Colorado
Katerina and Brad have shared a passion for both animals and children. While Katerina's admiration for the Maine Coon traces back to her teenage years, Brad's grew up on a dairy farm and loves farming. This couple's collective experience and appreciation for the Maine Coon breed inspired them to establish their own cattery in beautiful Conifer, Colorado.
When each kitten is born, they are carefully introduced to family pets and children, ensuring they grow up in a nurturing and clean setting. Colorado Maine Coons takes immense pride in the meticulous grooming, exhibiting, and socializing of their cats. Adopting from Katerina and Brad means welcoming a Maine Coon that's been cherished from day one.
From the breeder:
We are two friends and Registered Nurses that have come to love the Majestic Maine Coon cat! In our search for our most perfect ideal Maine Coon we found that the original characteristics of the Maine Coon Cat in Europe has been preserved under strict rules and regulations that are characteristic of the breed. We decided we will bring these wonderful cats back to the USA and bring these majestic cats home.
Quick Info:
Location: Conifer, Colorado
Associations: TICA, CFA
Website: ColoradoMaineCoons.com
Phone Number: 813-389-3788
5. Freedom Mountain Maine Coons, California
The standout trait of Freedom Mountain Maine Coons is their European lineage, showing distinct features such as strong muzzles, tall ears with lynx-like tips, and a wilder overall appearance.
European Maine Coons have extra-long bushy tails, prominent cheekbones, and beautiful almond-shaped eyes. If you're looking for a Maine Coon with a touch of European elegance, Freedom Mountain is the place to look.
From the breeder:
Nestled in the heart of the Sierra Nevada mountain range in Northern California, TICA Registered, Freedom Mountain Maine Coons come from 100% European Maine Coon champion lines and have been imported directly from Russia and Ukraine. Producing cats GIANT in size and personality.
Quick Info: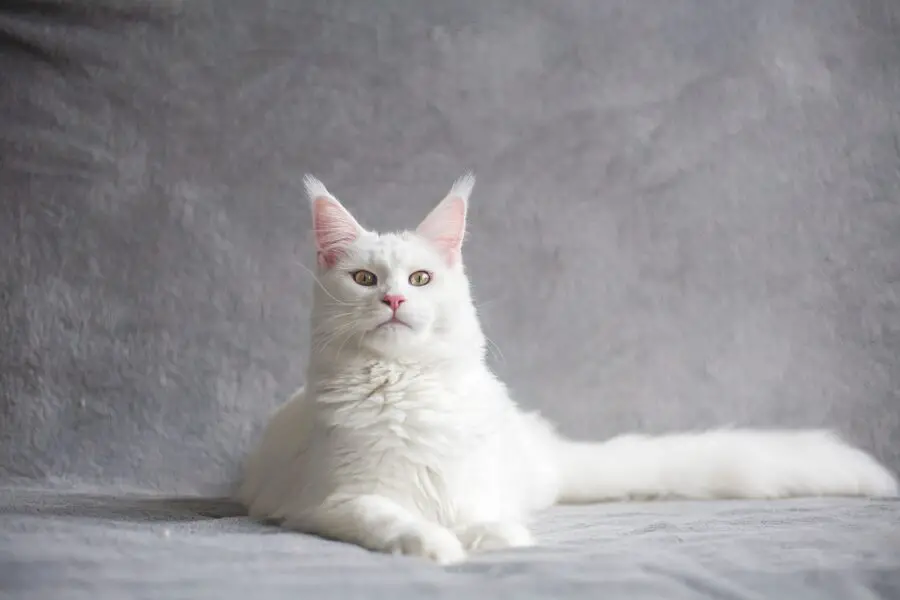 6. Rock Hill Maine Coons, Wisconsin
Nestled atop the serene hills of Prescott, WI, Hillside Whiskers Cattery is a haven for majestic feline giants with European heritage and the charming quirk of Polydactyls—those endearingly large paws! For two decades, this family-operated cattery has been nurturing these gentle behemoths, prized for their rare hues and remarkable compatibility with young children.
The Main Coon cats have a regal European lineage. They are characterized by grand stature and evocative almond-shaped eyes. If you're on the hunt for a cat that melds both health and European charm, look no further than Hillside Whiskers.
From the breeder:
Our cats and kittens are raised in our home in a safe, loving, and healthy environment. Our goal is to breed beautiful, large cats with health being a top priority. We also enjoy breeding for rare colors.
Quick Info:
Location: Prescott, Wisconsin
Associations: TICA,CFA
Website: RockHillMaineCoons.com
Phone Number: 612-581-5671
7. Coon's Ransom Maine Coon Cattery, Washington
At Coon's Ransom, the spirit of Maine Coon blends seamlessly with the legacy of the Ransom name. The journey began with Griffin, a Maine Coon sourced from California's esteemed Wild West Exotics, whose mysterious disappearance only reinforced a commitment to outdoor safety.
Every breeding cat under the Coon's Ransom banner is a testament to rigorous genetic screenings, including checks for hip dysplasia and annual HCM echocardiograms. While females are cherished household members, the males enjoy a sprawling acre to frolic in, complete with climate-controlled comforts. They make sure to surround each litter with lots of love so they are ready to take on the world with confidence when the time comes for their new adventures.
From the breeder:
Maine Coon Breeder of fully tested, quality cats. All of our cats are big, beautiful, healthy and come with a health guarantee.
Quick Info:
Location: Auburn, Washington
Associations: TICA, CFA
Website: CoonsRansom.com
Phone Number: 253-370-2714
8. Maybe Someday Definitely Maine Coons, New York
The name MSD Maine Coons reflects the journey of going from considering something to being fully dedicated to it. Investing in a Maine Coon isn't just an act of heart but also one of responsibility. Their name, short for Maybe Someday Definitely Maine Coons, embodies both the trepidation of such a commitment and the eventual surrender to the allure of these magnificent felines.
Nestled in Western NY, this TICA-registered sanctuary ensures every cat feels like part of a larger family. And even as their kittens find new homes, their doors remain open. Whether it's a query or simply sharing a snapshot, they cherish the lifelong connection.
From the breeder:
We are a small Maine Coon cattery located in Western NY. Our goal is to provide you with a healthy, well socialized kitten that will provide you years of unqualified love.
Quick Info:
Location: Geneseo, New York
Associations: TICA
Website: MSDMainecoons.com
Phone Number: 585-281-6757
9. Texcoons, Texas
Deep in the heart of Texas, Texcoons Maine Coon stands out as a beacon of feline elegance. With a penchant for the mesmerizing blue and captivating odd-eyed Maine Coons, they weave a spectrum of colors into their breeding tapestry.
Every kitten benefits from a nurturing abode, flourishing under attentive care and boundless love. To discover the vibrant range of kittens they nurture, or to experience their world firsthand, a visit to their cattery awaits the truly curious.
From the breeder:
We may only have a few litters a year, but our goal is to place emphasis on health and temperament, and to share our passion for these beautiful cats. Our cattery is registered with TICA and CFA. Our breeding cats come from the best bloodlines. They are from the USA and Europe.
Quick Info:
Location: Lubbock, Texas
Associations: TICA,CFA
Website: Texcoons.com
Phone Number: 806-317-0225
10. Nebraskcoons, Nebraska
In the tranquil corners of Northeast Nebraska, Nebraskcoons emerges as a bastion of Maine Coon craftsmanship. With a special affection for the unique Polydactyl kittens, they're on a mission to revive and celebrate this fascinating natural trait.
Their commitment extends beyond breeding—demonstrated by their proud presence in TICA and ACFA cat shows.
From the breeder:
Nebraskcoons is a responsible hobby breeder of Maine Coon Cats based in Northeast Nebraska. We produce quality Maine Coons including Polydactyl kittens. Breeding Poly pawed Maine Coon Cats is our focus as we want to help bring back this natural trait.
Quick Info:
Location: Wayne, Nebraska
Associations: TICA, CFA, ACFA, TCA
Website: Nebraskcoons.com
Phone Number: 402-833-5157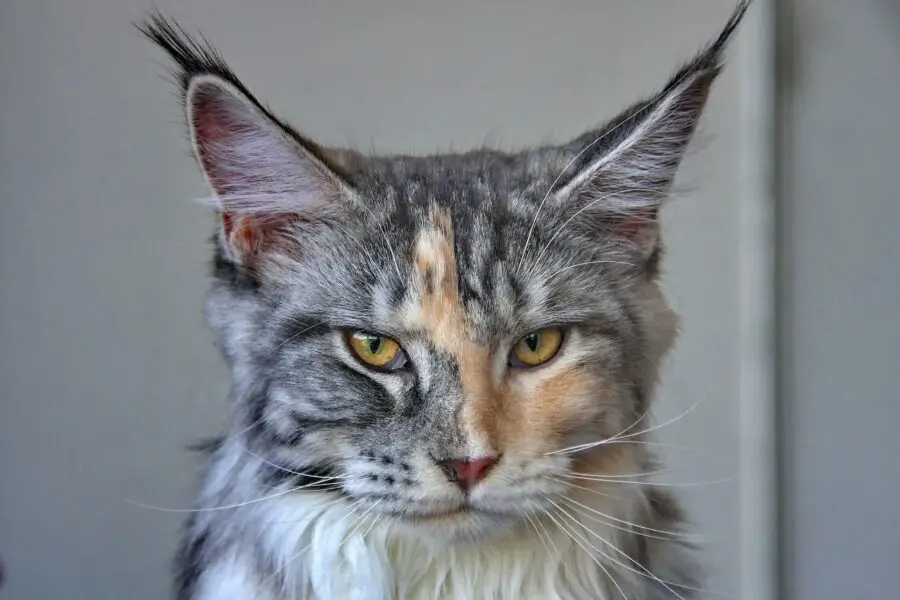 USA Maine Coon Breeders
Not seeing your state listed here? That means we don't have any breeders listed there yet. Submit a request to add one!
Canada Maine Coon Breeders
Not seeing your province listed here? That means we don't have any breeders listed there yet. Submit a request to add one!
Australia Maine Coon Breeders
Not seeing your area listed here? That means we don't have any breeders listed there yet. Submit a request to add one!
FAQs when considering Maine Coon cats
What should I ask to choose the right Maine Coon breeder?
While there are many people who claim to be ethical Maine Coon breeders, not all hold a standard that you can feel great about. Asking some relevant questions about their philosophy will ensure you avoid Maine Coon breeders that do this only for financial gain, not having the interests of the cats or you in mind. Make sure you ask about:
Health history of the parents and vaccinations. They should have their first vaccinations by the time they're adopted.
Whether they've bred their Maine Coons with other breeds (they should disclose this and it would make it not a purebred lien.
Have the socialized the kitten among other kittens?
Do they belong to a Maine Coon breed club? You can ask for references from the club.
Why does it matter if I buy from a registered Maine Coon breeder?
When you buy from a registered Maine Coon breeder (with either their local club, governing body, or TICA), that ensures that a standard of care and expertise is enforced. You can ask them about a wide range of topics such as the Maine Coon's genealogy, the right kitten for you, common health problems with Maine Coons to look out for. We offer additional registration through our Cat Kingpin Certified program as well, although it's not a replacement for other registrations.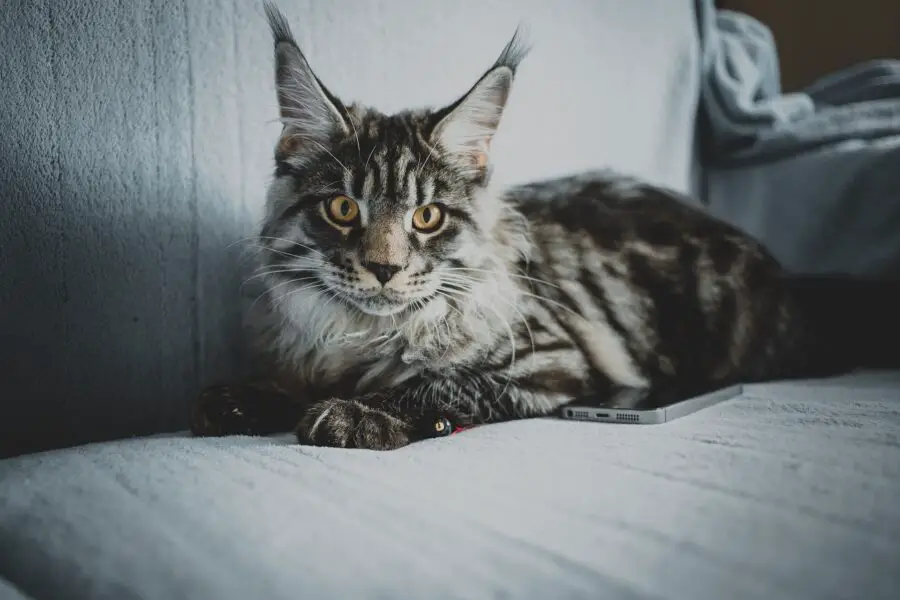 Navigating the Maine Coon Marketplace: Avoiding Breeder Pitfalls
Embracing the beauty of the Maine Coon cat is an exciting journey! However, like any popular trend, it can attract its fair share of dishonest sellers. Here's a guide to help you navigate your way to a trustworthy breeder, ensuring you bring home a genuine Maine Coon companion.
The Alluring Lure of the "Perfect" Maine Coon Kittens
Ever felt the disappointment of the showcased kitten being "suddenly unavailable?" Be cautious of this bait-and-switch technique.
Pro Tip: Dive deeper into online images. Know your kitten inside out before the meet-up.
Deposits: A Telltale Sign or a Genuine Request?
Genuine Maine Coon breeders value connection over cash. Be wary if asked for an upfront deposit without a face-to-face kitten encounter.
International Deals: Risky Business
Stay on your home turf. It's always best to see your kitten purring right in front of you before any funds change hands.
Your Inner Maine Coon Compass
Sometimes, instincts are your best guide. If it feels wrong, take a moment to reflect.
Finding the Purr-fect Maine Coon Companion
From online platforms to physical locations, where should you seek your feline friend?
Certified Maine Coon Breeders: The gold standard in breeders, where kitten welfare is paramount.
Facebook Feline Forums: Dive into communities like "Maine Coon Cat Nation" or "Maine Coon Cat Lovers" for firsthand breeder insights.
Proceed with Paws-tion
Online Marketplaces like Gumtree and Craigslist: The kitten's lineage might be a mystery here. Tread carefully.
Pop-up Breeders: Often, their focus is quantity, not quality. Ensure you prioritize your future pet's health.
Mainstream Pet Outlets: Not all are Maine Coon mavens. Seek those with genuine expertise.
Setting out on your Maine Coon adventure is thrilling. By being astute and informed, you're paving the way for a heartwarming and genuine feline connection.

List Author: Michael Steele
I have had two interests since I was very young… the Internet and cats. I grew up with two lovely cats in my family, Midnight and Chloe. But when I started looking for a cat as an adult, I realized how few reliable resources there are for finding ethical breeders. So I combined my Internet skills and cat knowledge to create Cat Kingpin, the #1 resource for cat breeders online. Have a question or suggestion for my list? You can reach me here.