Have Kittens or Cats to Sell?
Our Featured Breeder program is the perfect solution.
The first thing people do when they are looking for a kitten or cat is a quick Google search to find out their options.  Our website ranks highly in Google all across the entire United States for terms like "CAT BREED Kittens in STATE NAME" and "CAT BREED Cat Breeders in STATE NAME".  For example, "Siamese Cat Breeders in Texas" or "Maine Coon Cat Breeders in Indiana".Because of this, we're getting over 750,000 people to our website every year looking for kittens and cats of all different breeds.
We list all breeders who become Cat Kingpin Certified, absolutely free.
However, most breeds and regions have many different breeders, and it can be hard to stand out from the pack. So for every breed and region, we offer our Featured Breeder program. 
This gets you showcased at the top of one of our high-ranking local breed pages and is the absolute fastest, most reliable way to get visibility for your litters. Each feature includes trackable links, up to 3 images, 3 lines of text about your breed, and up to 2 links to your website.
Example Featured Breeder Ad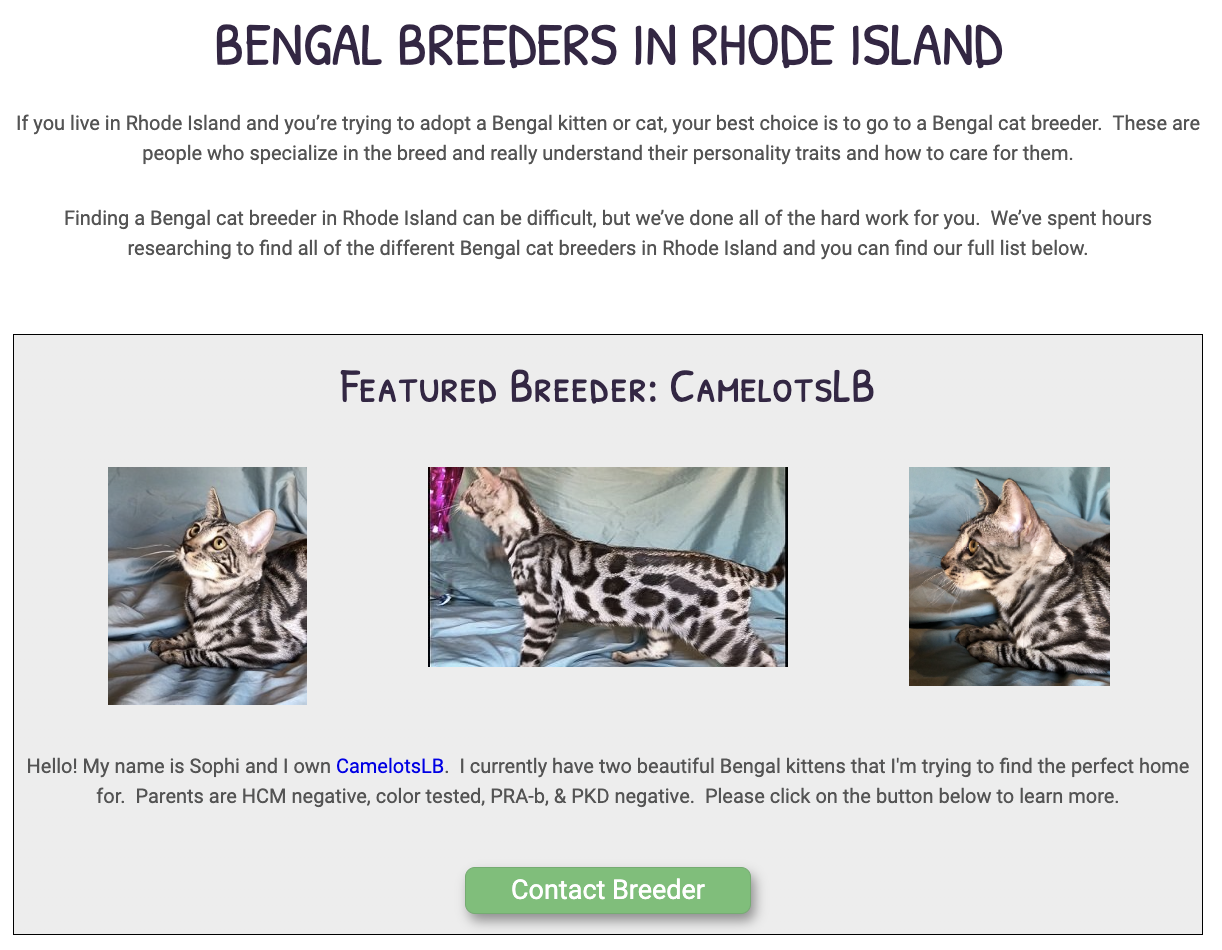 Example Featured Breeder Ad Unit (in grey)
Featured Breeder Ad Placement Rates
Note that all rates are subject to change and availability.
Featured Local Breeder 
Featured National Breeder

Featured top listing on a national breed page (for example, the Scottish Fold page)
$100 USD per month per page
Discounts available for multi-page ads. Just fill out the form below and let us know what you're interested in!
Interested in placing a Featured Breeder ad? 
Great! Just fill out the form below and we'll get back to you within 48 hours. Still have questions? Contact us any time.
Frequently Asked Questions
What's the minimum length I can advertise for?

The minimum advertising length is one month. We price our features to be affordable for any breeder. If you sell out your latest litter, you can let us know and we can take down your feature, but we do not offer refunds for sold-out litters.

How do you take payment?

We accept credit card or PayPal. We will provide an invoice with payment options once you request a feature, and features are put live once payment is confirmed.

Do you feature any breeder?