Bengal Cat Breeders in North Dakota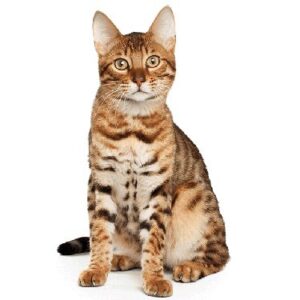 When looking for Bengal Cat breeders in North Dakota, it is important to find an ethical, registered cattery who specializes in the breed and understands their personality traits and how best to care for them. We highly recommend finding a breeder in your area. A local Bengal Cat breeder will ask questions about your household makeup, location and other key questions to help find you the right fit. You'll get to ask them questions, too - see our FAQs at the bottom of this page for what to ask.
Here at Cat Kingpin, we have done the research for you so you can find the most reputable Bengal Cat catteries in North Dakota and start the journey towards getting your new kitten. Below is our complete list of Bengal Cat breeders in North Dakota with kittens for sale, first as a summary then with additional details:
| Breeder Name | City | Website |
| --- | --- | --- |
| ​Leopards Leap Bengals | N/A | ​LeopardsLeapBengals.com |
| Cats in the Cradle Bengals | N/A | CatsintheCradleBengals.com |
| Tundra Bengals | N/A | TundraBengals.wixsite.com/freya |
​Leopards Leap Bengals
Has this breeder been Cat Kingpin Certified? No See our Certified Breeder Agreement
From the breeder:
​Leopards Leap Bengals features Top Quality Bengal Cats with Champion Bloodlines & kittens that are eligible for registration with TICA &/or the CFA.  Although small scale, they are Nationally Reputable & have gained a positive presence in the International Bengal community as well.  Leopards Leap Bengals has over 26 years of combined experience with Bengals specifically – not simply cats in general. They are dedicated to the advancement of the Bengal breed & passionate about producing socialized kittens of excellent health, exceptional quality, & wild type!  They are responsible Breeders, who practice Early Spay/Neuter, microchip & are involved in cat rescue on both local & National levels.
Cats in the Cradle Bengals
Has this breeder been Cat Kingpin Certified? No See our Certified Breeder Agreement
From the breeder:
We are hobby breeders that take great pride in raising healthy, well socialized, exotic looking kittens. I often have a waiting list since we produce only a few litters each year. All of our cats live in our home with us as very spoiled family members. Health and temperament is our main focus to ensure your exotic cat will be a loving companion that will provide you with many years of love, laughter and entertainment! You'll never find a more tame or well-socialized furry family member!
Tundra Bengals
Has this breeder been Cat Kingpin Certified? No See our Certified Breeder Agreement
From the breeder:
reeding and showing snow bengals. We are striving to  produce the best possible Bengals in our Northern region. We started our Journey with Freya ,our beautiful snow bengal.
Not finding what you need?
Catteries are typically family-run, and sometimes there just aren't enough options near you. If our listed options for Bengal Cats in North Dakota weren't enough, consider try considering another breed, a nearby state for this Bengal Cats, or asking our Facebook group!
What are Bengal Cats like?
Bengal cats are known for their wild appearance and background. Weighing between 8-15 pounds and up to 18 inches long, they have strong back legs and a muscular physique. Their coats are short and dense, remarkable for the leopard pattern on their fur. which can be different shades of brown, silver, and white. Registered Bengal breeders will have kittens for sale with different shades of brown, silver, and white among other variations.
Bengal cats are known to be loving and athletic, making them a great cat to play with kids or hold their own with other pets. They love opportunities to run, jump and climb 'Äî so for the sake of your furniture, a cat pole or tree will be especially worth it. When considering a Bengal for your family, it's important to note that these cats require a higher level of exercise than the average cat.
FAQs when considering Bengal Cats
How much do Bengal Cats cost in North Dakota?
As a sought-after breed, Bengal Cats for sale in North Dakota cost between $1,500 and $3,000. A cat's price is based on its pedigree, coat quality, age, health and vaccination history. If an Bengal Cat's parents are show-winning, they can be even more expensive.
Are Bengal cats good pets for families with children?
Bengal cats can make great pets for families with children, but it is important to note that they are highly energetic and require plenty of playtime and exercise. They are also known for their intelligence and love of interaction, which can make them great companions for kids who are interested in learning about cats and their behavior. However, it is important to supervise interactions between young children and cats to ensure that both are safe and happy.
What should I ask to choose the right Bengal Cat breeder?
While there are many people in North Dakota who claim to be ethical Bengal Cat breeders, not all hold a standard that you can feel great about. Asking some relevant questions about their philosophy will ensure you avoid Bengal Cat breeders that do this only for financial gain, not having the interests of the cats or you in mind. Make sure you ask about:
Health history of the parents and vaccinations. They should have their first vaccinations by the time they're adopted.
Whether they've bred their Bengal Cats with other breeds (they should disclose this and it would make it not a purebred lien.
Have the socialized the kitten among other kittens?
Do they belong to a North Dakota Bengal Cat breed club? You can ask for references from the club.
Why does it matter if I buy from a registered Bengal Cat breeder?
When you buy from a registered Bengal Cat breeder (with either their local Bengal Cat club, governing body, or TICA/CFA), that ensures that a standard of care and expertise is enforced. You can ask them about a wide range of topics such as the Bengal Cat's genealogy, the right kitten for you, common health problems with Bengal Cats to look out for. We offer additional registration through our Cat Kingpin Certified program as well, although it's not a replacement for other registrations.

List Author: Michael Steele
I have had two interests since I was very young… the Internet and cats. I grew up with two lovely cats in my family, Midnight and Chloe. But when I started looking for a cat as an adult, I realized how few reliable resources there are for finding ethical breeders. So I combined my Internet skills and cat knowledge to create Cat Kingpin, the #1 resource for cat breeders online. Have a question or suggestion for my list? You can reach me here.