Ragdoll Cat Breeders in Connecticut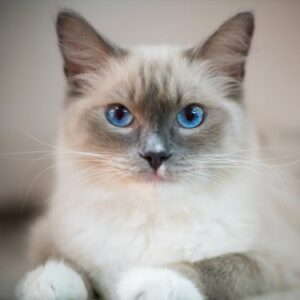 When looking for Ragdoll Cat breeders in Connecticut, it is important to find an ethical, registered cattery who specializes in the breed and understands their personality traits and how best to care for them. We highly recommend finding a breeder in your area. A local Ragdoll Cat breeder will ask questions about your household makeup, location and other key questions to help find you the right fit. You'll get to ask them questions, too - see our FAQs at the bottom of this page for what to ask.
Here at Cat Kingpin, we have done the research for you so you can find the most reputable Ragdoll Cat catteries in Connecticut and start the journey towards getting your new kitten. Below is our complete list of Ragdoll Cat breeders in Connecticut with kittens for sale, first as a summary then with additional details:
| Breeder Name | City | Website |
| --- | --- | --- |
| BellaPalazzo Ragdolls | N/A | BellaPalazzo-RagdollCats.com |
| Piperbrook Ragdolls | Newington | PiperbrookRagdolls.com |
| AngellCats Ragdolls | Shelton | AngellCats.com |
| Royalty Cats | N/A | RoyaltyCats.com |
| Hemlock Trails | Old Lyme | HemlockTrails.com |
| Appleton Ragdolls | Woodstock | AppletonRagdolls.com |
BellaPalazzo Ragdolls
Has this breeder been Cat Kingpin Certified? Yes See our Certified Breeder Agreement
From the breeder:
TICA, CFA and ACFA Registered Cattery Loving Ragdoll cats in CT since 1995. Our Ragdolls are gentle cats, they play without extending their claws. This makes them ideal family members in households with other pets and children.
Piperbrook Ragdolls
Has this breeder been Cat Kingpin Certified? Yes See our Certified Breeder Agreement
From the breeder:
,We are a purebred Ragdoll cattery located in Central Connecticut.. We breed traditional Ragdolls for genetic health and temperament and strive to produce kittens that meet the Ragdoll standards.
AngellCats Ragdolls
Has this breeder been Cat Kingpin Certified? No See our Certified Breeder Agreement
From the breeder:
We are a TICA registered Cattery and regularly show our cats in the TICA shows! Our show results with TICA have been truly extraordinary and outstanding. We are proud to breed Ragdolls that have wonderful personalities, are in excellent health and are magnificent in their beauty.
Quick Info:
Location: Shelton, Connecticut
Associations: TICA
Website: AngellCats.com
Royalty Cats
Has this breeder been Cat Kingpin Certified? No See our Certified Breeder Agreement
From the breeder:
Royalty Cats is a Ragdoll cattery registered with TICA. We have tested negative for Feline Leukemia.
Hemlock Trails
Has this breeder been Cat Kingpin Certified? No See our Certified Breeder Agreement
From the breeder:
We are registered with The International Cat Association (TICA). The breeding program in place at Hemlock Trails is amazing, emphasizing improving the cat's eye quality and coat. We have some of the fluffiest Ragdolls around.
Appleton Ragdolls
Has this breeder been Cat Kingpin Certified? No See our Certified Breeder Agreement
From the breeder:
We only have a few litters of quality kittens per year. Early reservations are recommended. Our Ragdoll kittens are raised underfoot with love, have wonderful personalities and nice temperaments. We strive to breed cats to the standard of the Ragdoll cat breed. We offer a two year genetic health guarantee with each kitten and all our kittens are registered with TICA.
Not finding what you need?
Catteries are typically family-run, and sometimes there just aren't enough options near you. If our listed options for Ragdoll Cats in Connecticut weren't enough, consider try considering another breed, a nearby state for this Ragdoll Cats, or asking our Facebook group!
What are Ragdoll Cats like?
Ragdoll cats are known for their playful nature and gentle temperament. They are highly intelligent and affectionate, often seeking out human attention and interaction. Ragdoll cats are adaptable to other pets and humans, and are generally easygoing and sociable. It's important to note that Ragdoll cats prefer not to be left alone for long periods of time, as they crave human companionship.
When considering a Ragdoll as a family pet, it's essential to make sure that someone will be around to provide regular attention and playtime. Ragdoll cats are a large breed, weighing up to 20 pounds and measuring up to 24 inches in length. They have a plush coat that comes in a variety of colors and patterns, including seal, blue, chocolate, lilac, and red. Registered Ragdoll breeders will have kittens for sale with these and other fur variations.
FAQs when considering Ragdoll Cats
How much do Ragdoll Cats cost in Connecticut?
As a sought-after breed, Ragdoll Cats for sale in Connecticut cost between $600 and $1,500. A cat's price is based on its pedigree, coat quality, age, health and vaccination history. If an Ragdoll Cat's parents are show-winning, they can be even more expensive.
Do Ragdoll cats have any health issues?
Like all breeds of cats, Ragdolls may be prone to certain health issues. One of the most common concerns is hypertrophic cardiomyopathy, a heart condition that can cause thickening of the heart muscle and may lead to heart failure. Ragdolls may also be more prone to urinary tract problems, such as bladder stones or infections. Additionally, their long, thick coat may be prone to matting and skin irritation, which can lead to skin infections. It's important to work with a reputable breeder and provide your Ragdoll cat with regular veterinary check-ups, a balanced diet, and proper grooming to help promote good health.
What should I ask to choose the right Ragdoll Cat breeder?
While there are many people in Connecticut who claim to be ethical Ragdoll Cat breeders, not all hold a standard that you can feel great about. Asking some relevant questions about their philosophy will ensure you avoid Ragdoll Cat breeders that do this only for financial gain, not having the interests of the cats or you in mind. Make sure you ask about:
Health history of the parents and vaccinations. They should have their first vaccinations by the time they're adopted.
Whether they've bred their Ragdoll Cats with other breeds (they should disclose this and it would make it not a purebred lien.
Have the socialized the kitten among other kittens?
Do they belong to a Connecticut Ragdoll Cat breed club? You can ask for references from the club.
Why does it matter if I buy from a registered Ragdoll Cat breeder?
When you buy from a registered Ragdoll Cat breeder (with either their local Ragdoll Cat club, governing body, or TICA/CFA), that ensures that a standard of care and expertise is enforced. You can ask them about a wide range of topics such as the Ragdoll Cat's genealogy, the right kitten for you, common health problems with Ragdoll Cats to look out for. We offer additional registration through our Cat Kingpin Certified program as well, although it's not a replacement for other registrations.

List Author: Michael Steele
I have had two interests since I was very young… the Internet and cats. I grew up with two lovely cats in my family, Midnight and Chloe. But when I started looking for a cat as an adult, I realized how few reliable resources there are for finding ethical breeders. So I combined my Internet skills and cat knowledge to create Cat Kingpin, the #1 resource for cat breeders online. Have a question or suggestion for my list? You can reach me here.