Sphynx Cat Breeders in Maryland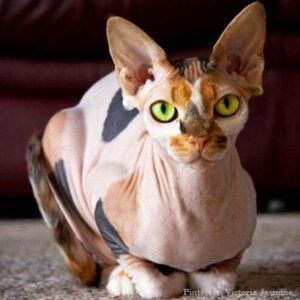 When looking for Sphynx Cat breeders in Maryland, it is important to find an ethical, registered cattery who specializes in the breed and understands their personality traits and how best to care for them. We highly recommend finding a breeder in your area. A local Sphynx Cat breeder will ask questions about your household makeup, location and other key questions to help find you the right fit. You'll get to ask them questions, too - see our FAQs at the bottom of this page for what to ask.
Here at Cat Kingpin, we have done the research for you so you can find the most reputable Sphynx Cat catteries in Maryland and start the journey towards getting your new kitten. Below is our complete list of Sphynx Cat breeders in Maryland with kittens for sale, first as a summary then with additional details:
| Breeder Name | City | Website |
| --- | --- | --- |
| RandazzleMe Sphynx | Westminster | RandazzleMeSphynx.com |
| Destyny Sphynx | N/A | DestynySphynx.com |
| Wrinkled Bliss Sphynx | Hagerstown | WrinkledBlissSphynx.com |
RandazzleMe Sphynx
Has this breeder been Cat Kingpin Certified? No See our Certified Breeder Agreement
From the breeder:
I started showing and breeding Sphynx in 2008 with TICA. You can often find me showing our cats or kittens in TICA shows on the East Coast. I have made wonderful friends, and learned so much about our breed.
Destyny Sphynx
Has this breeder been Cat Kingpin Certified? No See our Certified Breeder Agreement
From the breeder:
Our Sphynx are not our hobby. They are our family, and they bring great joy to our lives. We spoil them rotten and they love it! Here's a small website with a lot of love for the Sphynx breed. We are a registered cattery with both The International Cat Association (TICA) and the Cat Fanciers Association (CFA).
Wrinkled Bliss Sphynx
Has this breeder been Cat Kingpin Certified? No See our Certified Breeder Agreement
From the breeder:
Small in home cattery, HCM scanning of adults, healthy kittens, 1 yr health guarantee.
Not finding what you need?
Catteries are typically family-run, and sometimes there just aren't enough options near you. If our listed options for Sphynx Cats in Maryland weren't enough, consider try considering another breed, a nearby state for this Sphynx Cats, or asking our Facebook group!
What are Sphynx Cats like?
Sphynx cats are known for their unique appearance, with a hairless body that feels like suede to the touch. These cats are typically medium to large in size, weighing between 6-12 pounds and measuring up to 15 inches in height. Despite their lack of fur, they are still considered to be a warm and affectionate breed, often seeking out human contact and attention.
Sphynx cats are highly intelligent and curious, with a playful and mischievous nature. They are also known for being very social and outgoing, enjoying the company of both humans and other pets. When considering a Sphynx for your family, it's important to note that they don't like to be left alone for long periods of time and thrive on attention and interaction. These cats come in a variety of colors and patterns, including white, black, blue, red, and cream, among others. If you're interested in adding a Sphynx to your household, registered breeders will have kittens available with a range of colors and patterns to choose from.
FAQs when considering Sphynx Cats
How much do Sphynx Cats cost in Maryland?
As a sought-after breed, Sphynx Cats for sale in Maryland cost between $1,500 and $4,000. A cat's price is based on its pedigree, coat quality, age, health and vaccination history. If an Sphynx Cat's parents are show-winning, they can be even more expensive.
Do Sphynx cats require special care?
While Sphynx cats do not have fur, they still require regular grooming to maintain good skin health. Because they lack fur, their skin is more exposed and vulnerable to environmental factors, so it's important to regularly clean and moisturize their skin to prevent irritation or infections. Sphynx cats may also require regular ear cleaning to prevent wax buildup, and it's important to provide them with a warm and comfortable environment as they may be more sensitive to cold temperatures. Additionally, Sphynx cats may require more frequent bathing than other breeds, as they do not have fur to absorb natural oils and may become greasy or dirty more quickly.
What should I ask to choose the right Sphynx Cat breeder?
While there are many people in Maryland who claim to be ethical Sphynx Cat breeders, not all hold a standard that you can feel great about. Asking some relevant questions about their philosophy will ensure you avoid Sphynx Cat breeders that do this only for financial gain, not having the interests of the cats or you in mind. Make sure you ask about:
Health history of the parents and vaccinations. They should have their first vaccinations by the time they're adopted.
Whether they've bred their Sphynx Cats with other breeds (they should disclose this and it would make it not a purebred lien.
Have the socialized the kitten among other kittens?
Do they belong to a Maryland Sphynx Cat breed club? You can ask for references from the club.
Why does it matter if I buy from a registered Sphynx Cat breeder?
When you buy from a registered Sphynx Cat breeder (with either their local Sphynx Cat club, governing body, or TICA/CFA), that ensures that a standard of care and expertise is enforced. You can ask them about a wide range of topics such as the Sphynx Cat's genealogy, the right kitten for you, common health problems with Sphynx Cats to look out for. We offer additional registration through our Cat Kingpin Certified program as well, although it's not a replacement for other registrations.